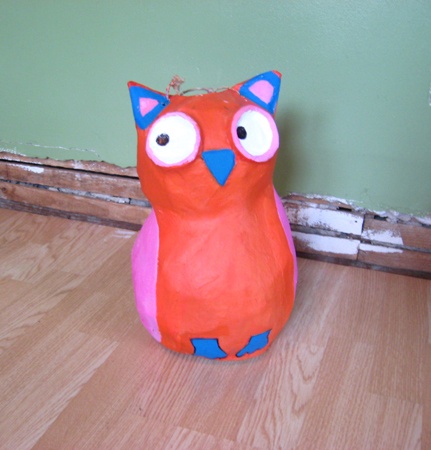 Maker: Vanessa Monfreda
Based in: Indianapolis, Ind.
Price range: $15 to $350
Website: Vanessamonfreda.com
"It all started when I made a piñata for my son and daughter for their birthday party," says Vanessa Monfreda. The Chilean-born artist says she, "got hooked and fascinated with the medium of paper Mache and its endless possibilities. And soon our home studio – which is really our living room – was invaded by floating piggies with mustaches, aliens, friendly three-eyed mini monsters and all sort of imaginary friends."
Monfreda initially sold her creations as piñatas but has taken to describing them as mixed media sculptures. More solidly constructed than mass-market Mexican-style piñatas, Monfreda uses "discarded materials or whatever is around me for no use. I recycle not just out of environmental reasons, but also out of economic reasons and availability," she says.
When Monfreda isn't making objects she tends to her family's garden and raises three teenage sons and an elementary-aged daughter. "In other words: One drummer, one Karate champion, one soccer player and a princess," she says.
Vanessa Monfreda Fun Facts: I am fluent in three languages- German, Spanish and English and I constantly think in three languages as well. Originally I am from Chile, but I grew up in Germany. Other than that I am pretty boring and just like everybody else. When you have lived in so many places you just realize that pretty much everybody is the same. You start focusing on the similarities rather on the differences.